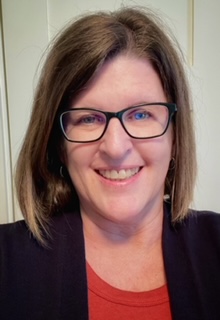 Darcy Bonjour had dreams of living on a little farm with a llama. Instead she lives in a little town with a Yorkiepoo named Archie that won't snuggle with her.
As a wife, mother of two and Nana of 6, she is no stranger to chronic illness. She not only has a history of chronic hives, but also chronic migraine, numerous vestibular disorders, fibromyalgia, arthritis, long hauler's Covid, and she became deaf 15 years ago. She previously worked at the Disability Office making medical decisions and then at the Social Security Office, until her health worsened and she could not continue to work
She first got chronic hives in 2009. Like many others she saw several doctors until she found one that told her he would not stop until he found out what was wrong with her. She was eventually diagnosed with chronic urticaria and dermatograhism. The prescribed medication worked and she was soon in remission.
In October of 2020 she became sick with Covid. About 4 months after recovery she started to become ill with many different things. Soon the chronic hives were back manifesting in a different way. She sought out her former doctor, who thankfully was still practicing, though semi-retired. Being prescribed a different medication protocol, she started through the healing process again.
Darcy is an eternal optimist and natural encourager. Throughout her journey with chronic illness she has found a passion in advocacy to help others not give up hope. She encourages them to keep strong and never stop pursuing answers or finding doctors to help even when it seems futile. And to find a little joy in each day. She also works in advocacy in the migraine, vestibular and chronic pain community. And she volunteers in the community meal program at her church.
And she herself stays hopeful. After all, maybe Archie will snuggle some day. Or she may move to a llama farm.
Click here to read all of Darcy's articles on Chronic-Hives.com.