My journey with chronic hives!
Hi! I'm Kimberly! A 40 year old woman who has Chronic Idiopathic Urticaria or Chronic-Hives. I never had chronic hives prior to 2018. I always knew I have had some allergies since a child. In 2018, my health came crashing down on me. I simultaneously developed Chronic Idiopathic Urticaria, Psoriatic Arthritis, Pituitary adenoma, hypothyroidism, Sjogren's syndrome. And the list goes on & on as I am sure many of yours do.
Process of elimination
I like most people started a series of elimination to get rid of all the products in my life. I tried many of the typical things they suggest, steroids, Benadryl, a combination on an H1 & H2. Hydroxyzine, Benadryl, none of these helped. So it was a constant trip back & forth to ER, getting testing, seeing specialists, etc. The only thing other than allergies I have known about my whole life they have found is that my IgE antibodies are in the 800's. Depending on the lab I believe my point of reference is that they were supposed to be less than 100 or so.
My medication journey
I started with anti IGE therapy Xolair at 2 (150) mg dosages subcutaneous injections. I have taken those injections without fail every 28 days since 2018. I also now have to give myself injections of Cosentyx, Emgality, and now B12. The judgement that accompanies chronic-hives is harsh. My hives, for whatever reason, also causes my eyes to swell closed mostly happening one eye at a time. However, in January of this year they were both almost swollen closed.
The physical effects of my chronic-hives
I try not to use my Epi pen in this instance because I was not suffering from any breathing problems. However, if I do experience swelling in my mouth, lips, throat, then I will go ahead with an Epi pen. But in most cases, my hives generally trigger in my eyes, upper arms (which feels like someone is cutting my circulation off) and my thighs.
Finding connection in this journey
I am always looking to connect with anyone who may be suffering from something similar or people who have successfully combined Xolair along with another biologic treatments. In my case, my doctors don't seem to know much about this so gaining information from other patients is where I lean on to gain more information on their personal experiences. If you share a similar story to me, or just feel like connecting, please interact with my story! We could all use the help sometimes! Thanks for listening, everyone!
A swollen eye flare-up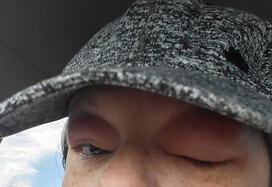 This article represents the opinions, thoughts, and experiences of the author; none of this content has been paid for by any advertiser. The Chronic-Hives.com team does not recommend or endorse any products or treatments discussed herein. Learn more about how we maintain editorial integrity
here
.

Community Poll
How well do you feel you manage your chronic hives?